Eagle World Express came into being on Monday, 30th October 2006. It all began with the setting up of office at Mumbai.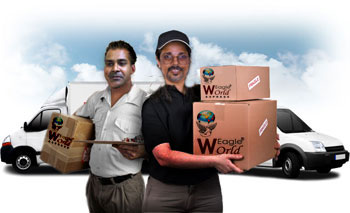 It was the foresight and dynamism of the management which created a spring board for the organization to catapult into what it is today. Eagle World's commitment to corporate excellence and its yearning for making it a common household name opens floodgate of opportunities and challenges and to meet it head on, shall be the corner stone of its philosophy.
Teams of professionally trained personnel work round the clock to organize and coordinate between our clients and provide that special personal touch for establishing a fruitful relationship. It is this personalized service that sets us apart from everyone else.
We are one of the fast growing courier companies having many sales and regional service alliances, due to our continuous and dedicated approach to a better service we achieved the present position.
Despite the vertical depression in the global economy in recent times: we have registered a remarkable growth in network & business both in terms of Volume and Turnover.
We are the among express carriers in the country today which offers an entire range of services which includes a single consignment of a document to a load of shipments.
We are having a dedicated team of professionals, who contribute to the expertise for customs and regulatory clearances in all states countrywide, to ensure smooth service to the customer.
Eagle World Express have come a long way in providing total solutions for a wide clientele from individuals to leading Corporate, MNCs, Educational and Financial Institutions .
The real attribute to the success of Eagle World Express is its willingness to upgrade the systems with changing times and also to incorporate fresh and innovative ideas to make its presence felt.
At Eagle World Express the sophisticated Hub-and-spoke system with ware housing and storage facilities, modern communication network and large fleet of transportation vehicles backed by dedicated team of professionals truly proves that the claim "We care…. for your valuables" is the quintessence of the business philosophy.